Common areas include the hairline, bridge of nose, eyebrows, upper and lower lip, cheeks, sideburns, ears, chin, neck, shoulders, arms and underarms, toes, hands, breasts, abdomen, bikini line, legs, back, and chest

Copyrights 2008. Electrolysis Advantage

Beth Grantham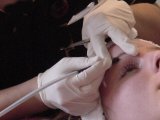 Eyebrows and Facial Hair
The procedure involves inserting a fine probe into the natural opening of the hair follicle, alongside the unwanted hair. A current is released destroying the growth cells of the hair preventing that follicle from reproducing another hair. After treatment the hair is removed gently with forceps.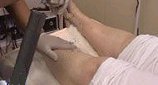 Legs
Today Electrolysis is the only process for PERMANENT HAIR REMOVAL accepted by the Food and Drug Administration (F.D.A.).

Backs
There are no permanent side effects. Sometimes, a slight reddening of the skin occurs during or immediately after treatment, this will only last for a short time. Electrolysis is safe and, unlike depilatories or bleaches, no harsh chemicals are used.
Chest and Abdomen
Since many factors influence hair growth, you will need to return for several visits. The total number of sessions needed to remove hair permanently from a particular area will vary from person to person. Most clients return once a week or every other week, as necessary. But the unwanted hair will be gone forever once the series of treatments have been completed. Each treatment lasts between 15 minutes and one hour.
Electrolysis Advantage serves clients in Baldwin and Mobile Counties in Alabama including Spanish Fort, Daphne,Fairhope,Gulf Shores,Foley, Loxley,Robertsdale,Bay Minette,Mobile,Chickasaw,Saraland and more.